Message from jean-francois woloch

« Il est des jours où l'on ressent le simple fait de voir comme un véritable bonheur. »
Robert DOISNEAU
It is days when one feels the simple fact of seeing like a true happiness.
Robert DOISNEAU



« A la question:"qu'est-ce qu'une bonne image?"Je me contente ,faute de mieux,de répondre
Que c'est celle qui a su communiquer l'émotion qui l'a fait naître. »
Willy RONIS
"With the question: " what a good image? "I am satisfied, for want of anything better, to answer
That it is that which knew to communicate the emotion which gave birth to it. "
Willy RONIS


« S'il n'y a pas d'émotion,s'il n'y a pas un choc,si on ne réagit pas à la sensibilité,on ne doit pas prendre de photo.C'est la photo qui nous prend. »
Robert DOISNEAU
"If there is no emotion, if there is not a shock, if one does not react to the sensitivity, one should not take photo.C' is the photograph which takes to us."
Robert DOISNEAU


Bonne visite good visit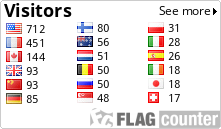 Create your own visitor map!