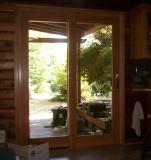 PatioSlider.JPG

Sierra Pacific patio slider. Fir interior/aluminum clad exterior.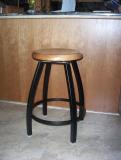 BarStools.JPG

Holland Bar Stools (Misha Swivel), 25", medium maple seat, black wrinkle finish base from www.kitchensource.com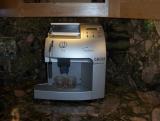 Gaggia.JPG

The Gaggia Syncrony "does everything but bring it to me in bed" expresso maker. I LOVE this machine! Purchased through wholelattelove.com - a great website to research expresso/coffee makers even if you buy from somewhere else. Extensive customer reviews, and lots of detailed information.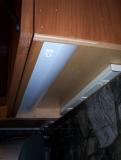 Undercablightsoutlets.JPG

Two more of my favorite features. GE florescent slimline undercabinet lights (Home Depot-"Best"). and Plugmold outlet strips from Wiremold, also from Home Depot.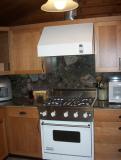 RangeHood.JPG

White Viking 30" all gas range and 30" Vent-a-Hood professional series. We really agonized over color choice for the appliances - I am very, very happy with the white!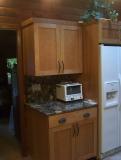 Day3cabinetinstallfridgewall-left.JPG

Panasonic Infrared Toaster Oven - thought this would be great for the temporary kitchen. Don't waste your $$. Doesn't toast any better than a regular toaster oven and it doesn't broil/top brown only - which I didn't realize until after I bought it.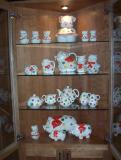 American Bisque Polka Dots.JPG

One of my favorite collections. Vintage American Bisque Polka Dot Piggies, the matching tea set was a real find. They are so bright and cheerful, you can't help smiling when you look at them.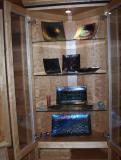 McVay Art Glass.JPG

Corner display cabinet with McVay art glass collection. This is really beautiful irridescent glass, it just didn't photograph very well. Sorry! Kurt McVay is a local artist, received one piece as a gift and the rest is history.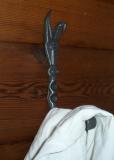 Gabes towel hook.JPG

Gabe's towel hook is under the bar right next to the patio door. Like most boys, he hates to have his drooly mug wiped, so this gives me the advantage. I bought the hook years ago, it is hand made cast iron from the blacksmith at the Western Washington (Puyallup) Fair, and FINALLY found the perfect place for it. :)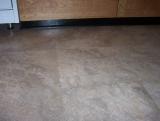 Wilsonart Flooring_0297.JPG

Wilsonart Estate Plus laminate flooring in Taupe Fossil. The flooring is one thing I would probably do differently. We have Pergo Select in our utility room and I really like it, but it has more texture to it. The Wilsonart has a smoother finish and while the pattern hides dirt well, it shows every drip, drop, and damp smear. When you have a dog that drools for a living - this is not a good thing!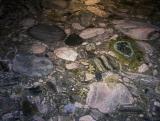 Verde Marinace.JPG

It's really hard to get a representative picture of the Verde Marinace, it varies so much from one area to the next. This is part of the countertop on our peninsula. For reference, the "rock" on the right that looks like a geode is about the size of your closed fist. We liked the Verde Marinace with large inclusions, but it also comes with smaller more uniform sized stones. Enjoy!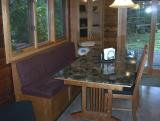 0104BenchSeatTable.JPG

Verde Marinace tabletop with Vermont Furniture cherry tablebase and chairs. Bench seat built by cabinetmaker (Integrity Cabinets). Cushions are done in a dark purple microfibre (Durapella).