Kitchen Remodel - 2003 - Details, details, details!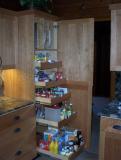 pantry.JPG

One of my favorite features! Five full extension pull-out shelves and upright tray storage.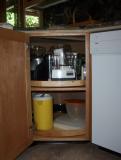 SuperSusan.JPG

32" Super Susan - purchased the Rev-a-Shelf wood trays from Ovis online at http://www.ovisonline.com. These things hold a ton of stuff!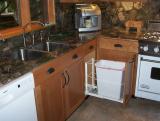 Pull out trash.JPG

Pull-out trash can from Rev-a-Shelf, another of my favorite features.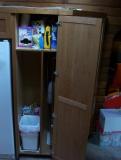 utilitycabinet.JPG

Two recycle bins on the left; space for brooms, mops, etc. on the right. I installed two more shelves above the recyle bins; one for newspapers and the other for more storage.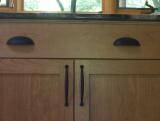 hardware.JPG

Colonial Bronze (cbz405 in distressed black) cup pulls from MyKnobs.com around $18ea. The handles are from Ikea, the Sinera line. At $1.98 for two you can't beat the price and I love the satin stipple finish.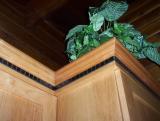 Crown molding detail.JPG

Crown molding with contrasting black dentil trim.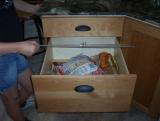 BreadDrawer.JPG

Custom Inserts bread box deck with hinged lid and knob. These are made to fit the exact dimensions of your drawer and are a LOT less expensive than the acrylic custom made bread boxes.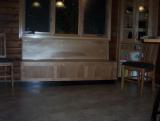 Bench seat closed.JPG

Bench seat still needs cushions. The heating vent is under the center section - that will be MY seat this winter. LOL!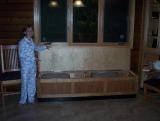 Bench seat open.JPG

Rian showing off all the storage under the bench seat. Have patio custions in there for now.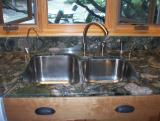 sinkfaucets.JPG

Blanco 510-887 SS sink; 10" and 8" deep bowls. Delta Waterfall (WF174SS) in stainless and the ISE GN1100SN instant hot water dispenser.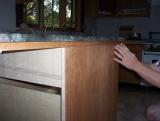 2cmwithtrim.JPG

2cm Verde Marinace granite with 1/4" beveled edge (no lamination). The trim will completely hide the plywood underlayment and give it a finished look.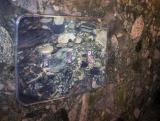 switchplatecover.JPG

My one stab at creativity! To make the switch covers as unobtrusive as possible, I took close-up pictures of the granite and put them inside clear acrylic covers! I purchased the covers on-line (they are used for needlepoint) and bought model paint for the white screws. Ain't I clever! LOL!!
click on thumbnails for full image