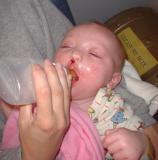 I WON THE TRESURE

……. I heard a wail, that grew louder and louder. The nurse had the look on her face, like how do I stop this child from screaming. All the nurses caught my eye, and there blank expressions, I knew the moment had finally come. Closer we walked hand in hand, the cry's I noticed had taken a different tone entirely. I finally was able to focus in on my little Stella, and my smile became as wide as a football field!!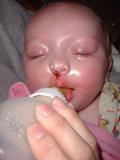 ME SO HUNGRY

Dr. Nini must have a very high set of standards, I thought to myself as I gazed upon my daughter. "What was he talking about?" She looked fine to me. Even though her face looked like a fat Sumo wrestler with a bloody nose! No more gaping hole in her face!! The tone of her crying & mumbling even changed, & no more nasally sounding cries were coming from her anymore.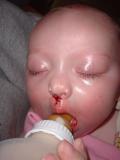 MORE MILK

Apply Neosporin Ointment to the wound until scab disappears. Also with a moisten Q-tip try to dislodge some of the blood from the nasal cavity. Be careful not to JAB the tip up the nose. Also you might want to attempt this when the child is in sleep mode.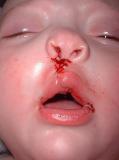 POST OPERATION

Only sponge baths, the first couple of days after the operation. We were trying not to traumatize Stella any more than necessary. Use a warm moistened washcloth to get excess blood off the surrounding areas of the mouth, neck, etc.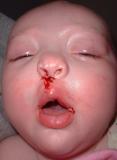 POSTOPT2

Even though Stella looks like she is in pain. She is a drama queen, we watched her through the door crack and she was acting normal watching Spongebob. When we walked in the room, Stella changed roles and commenced to crying again. We do give her children's Tylenol at night so we all can sleep through the night. But only for the first couple of nights after the operation.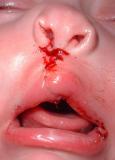 POST OPT CLOSE UP STITCHES

If you look closely you can see the fine stitches that resemble very fine fishing line. The nasal area is a little swollen, as so are the lips. But Stella has no problem devouring two bottles of formula in one sitting. We can't wait to start her on rice cereal I'm sure she is getting tired of just having formula the last seven months.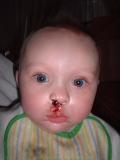 THE DAY AFTER OOZING

The oozing of the blood from the nasal passage was of some concern. Dr Nini did say that was a good thing. The scab once it dried would actually help to keep it from scaring once the scab falls off. We were concerned with her breathing but she will just have to breathe through her mouth till the scab falls off.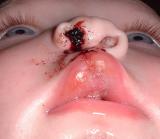 The day after chin view

Different profiles for your viewing pleasure!