Message from Paolo Perbellini

Hello everybody! Thanks for visiting my photo-galleries.
Please post a comment if you like, i will be glad to read it!

If you are interested in using any of these images please send me an email with your enquiry at perbepaolo(at)iol(dot)it

Grazie, Ciao,
Paolo Perbellini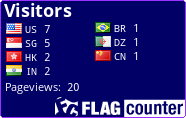 Here below my "visited countries"


create your own visited country map