How do I disable direct linking?

The steps below show how to disable direct linking at the account level.


From your profile page, click the "edit your account settings" link.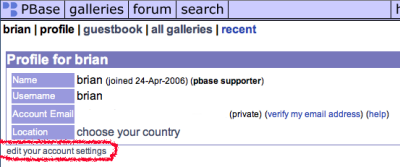 Scrolling down, you will see the "Account Settings" section. Here, you can disable direct linking to your images by unchecking the checkbox by "Allow direct linking from other sites, such as forums and blogs".






Don't forget to click the "Update" button when done making changes.



---

Disabling Direct Linking at the Gallery Level.

The steps below describe how to disable direct linking at the gallery level.

Begin by clicking the "advanced" link located towards the top of the page.





Here you are able to disable direct linking or set it to your preference. These settings will only affect this gallery.