Sudan Mission I - Khartoum (March 2007)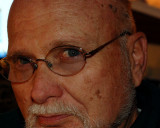 Preparing for the Redeye
ds20070307_0002a1w DDS Redeye.jpg

The red eyes represent what I expect to have after the 11 or so hours of flying to get to Khartoum. This will be my second trip to Africa as part of a medical/humanitarian mission . Last time it was Rwanda; this time it's Sudan. While we expect to be conducting a couple of day-long clinics at IDP (refuge) camps and doing some surgery in Khartoum, this is more of a "fact finding" mission that a pure clinic mission. We will be seeing gov't ministers, hospital folks, orphanage and rehab center people, etc. The purpose, aside from "fact finding" (sounds like a congressional junket, doesn't it), will be to establish key, high-level contacts and to establish a degree of mutual trust that is required to make anything happen in Africa.
click on thumbnails for full image